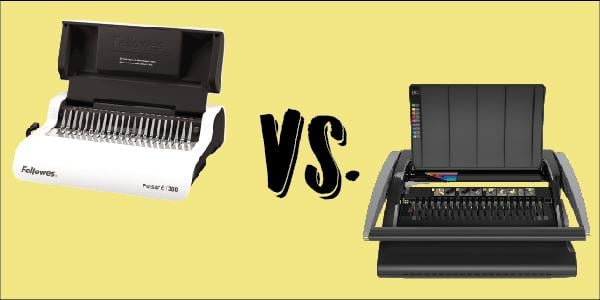 (Image credit: lapasar.com)
Binding machines are now becoming a must-have for any small offices that are looking to have more flexibility, convenience, and control when putting together its important documents, reports, presentations, and proposals. One of the most simple, common and cheapest binding methods is comb binding. For this reason, there are many machines available on the market that are designed for comb binding. They have their differences, in terms of different comb-binding machines and their capabilities. These differences may seem insignificant to the untrained eye. However, when it comes to binding machines, the slightest advantage can mean time-saving and money-saving.
In this article, we will take a look at two of the major players on the market, Fellowes, and GBC. Both companies have a solid collection of binding equipment, but there are some differences that need to be highlighted and that you might want to know about before you choose and buy your own binding machine.
First of all, you will have to decide whether you prefer a manual or an electric punch on your binding machine. Manual ones are a little bit less expensive, but electric ones are way quicker and way more accurate. Moreover, all the machines that we will discuss here are available with either manual or electric punch mechanisms at Lapasar.com.
Here is a quick comparison of Fellowes and GBC's manual machines for your office use:
1. Fellowes Electric Pulsar E-300 vs. GBC Combbind C210E: Both of these machines feature a 15 punch/300 bind capability, and will cost you about RM 1750-RM1875.
The Pulsar is seen to be cheaper here, however, it provides the following advantages:
- The Pulsar is built for vertical document loading, which ensures accurate punch alignment and as well as a rotary edge guide that accurately centers documents.
- The Pulsar features a much more compact and light-weighted design. It even folds up for your quick and easy storage and is known to not take up much more room than a book on a bookshelf.
- While the Fellowes's Pulsar E-300 and GBC's Combbind C210E's manual versions cost the same, the Fellowes's electric machine is a bit less expensive than the GBC's counterpart.
- The Pulsar comes with a two-year warranty, whereas the GBC provides only a one-year worth of warranty.
2. Fellowes Quasar and Quasar E vs. GBC's C210E. Again, two very similar machines, with both featuring a 20-punch capability. Again, however, the nod has to go to the Fellowes machines, due to the fact that they have a 500-bind capacity vs. the C210E's 300. The Quasar stores in a smaller space and the warranty of two years just makes more sense, especially when you consider that the electric versions cost almost the same.
Both of these companies are well known and respected in the binding industry for making highly reliable devices and really, you can't go wrong with either one of these manufacturer's comb-binding machines. However, we've discussed the advantages here that are fairly slight in the impressive structure of things, which is why we wanted to lay out the differences for you. Ultimately, you will need to compare the systems for yourself and make a decision about the machine that will best fit your particular needs. If you are ready to purchase yours today, do visit
Check out our article on Printer selection, which one is better: LaserJet or Inkjet printers?