Why would you care about the tail-end spend? Why would you even read about it? The answer is quite simple: the business giants today are finally acknowledging the once ignored phenomenon known as tail-end spend.
Regarding tail-end spend, there are aspects that are hard to optimize. Some of these variables are low price – high volume, eccentric spend, misclassified spend, one-time spend, etc.
Furthermore, other challenges include a lack of a dedicated management team and the lack of proper data management.
But what exactly is tail-end spend?

What is Tail-end Spend?
According to Capita: it is basically 20% of the total spend that usually goes unchecked in an organization. Many business entities also refer to it as the long tail or the low value spend.
The tail-end spend of an organization is usually invisible because the amount is insignificant, however, the frequency can cause tail-end to spend to pile up if not managed properly. So, simply put, tail-end spend is the low-value transactions of a company that can result in the unchecked or unmanaged spending of an organization.
Why is tail-end spend a problem?
According to Omni Procurement, the procurement department focuses on the management of their strategic spend which is 80% of their total spend. However, the other 20% of their total spend is usually unchecked and that is precisely the tail-end spend.
Often this non-core transaction is unmanaged due to imperfect resources and high capacity of suppliers. Furthermore, internal strategic sourcing teams do not give priority to most of these transactions as they are inconsequential and are infrequent in comparison to core transactions.
Regardless, this 20% unchecked expense can hurt the company revenue in the long run. Let us look at a realistic example and simplify tail-end spend:
Example of Tail-end Spend
Let's do some role-play. Imagine that you're a spend manager of a car manufacturing company Typically a car manufacturing company's direct spending is the materials that go into making a car (tyers, screws, engines, and other car parts).
The indirect spend of your company, in this case, is the stationery items that your office employees use, the safety boots the manufacturing workers wear, and the furniture in the meeting room for your executives. These are not items that go directly into making your product (cars), but they are still part of the total expenses of the company.
The needed materials that are used to make a car (tyers, screws, engines, and other car parts) can only be obtained from few (and specialized) suppliers. Due to this, the purchasing is typically negotiated and taken care of well.
For the items included in indirect spending however, it is often not as streamlined. Stationaries, for example, can be bought from hundreds of places, and are easily available.
With this sort of haphazard spending, it will be difficult to keep track of and optimize to help the company cut down on tail-end spending that can add up over time and cause the company to spend more than necessary.
Hence, you can speculate how these minuscule expenses can add up for a business if an organization doesn't handle it with care.
The Purchasing Process of Tail-End Spend
Your employees (HR department, Marketing, and Finance section, IT department, etc.), are often purchasing products or services according to company requirements. In the traditional procurement process, the non-professional purchasers could buy anything from anywhere and anyone as long as the total cost doesn't exceed the allowed threshold.
A process is required in every organization to strategically limit the cost of tail-end spend. The cost of uncommon orders necessary in a new project, purchases which are outside the spending structure of your company are handled by the tail-end spend process.
Some key aspects that should be included in your tail-end spend process:
Transparency
Any spending is done for the company should not be conducted using petty cash, as it is difficult to keep track of and will make managing the process nearly impossible.
Benchmarking
Any purchases should be benchmarked against the past, current, and future purchases to help implement the best purchasing strategy for your company. This can be done by comparing prices via different departments within a company, market rates, and/or between vendors.
Creating Savings
Due to transparency and the availability of data, product to product savings can be created.
So, you should start exploring these areas of non-interest as it may lead to cost reduction in a tail-end spend.
The Importance of Tail-End Spend Management
According to Omni procurement, it was impossible for companies to manage their full strategic spend accurately in the past. For instance, most companies were only managing 40% to 60% of their total strategic spend positively. However, the situation is different now.
In recent times, companies with the help of visibility and better strategic roles in procurement are reducing the cost of overall spend. These factors are helping organizations to manage strategic spend efficiently.
With this increase of efficient management in spending, and the increase of awareness of tail-end spend, the current focus is on reducing and managing tail-end spend, however...
Managing tail-end spend can be a difficult task for procurement departments, but, it can also be rewarding. According to Omni Procurement, effective management can result in 15% cost savings and increased ROI (Return on Investment) for the company as a whole. So, it is a task that should not be overlooked by any organization.
Every company would want for this increased ROI, but we should not forget that the time spent on managing tail-end spend also results in the loss of time that can be used elsewhere.
As such, there is a fine balance that must be achieved between time spent on managing tail-end spend and the potential savings gained through this management.
Manual methods (going through all physical invoices and receipts one by one) in this case only make it harder for tail-end spend to be managed, but through digital means (having a database and tabulation functions) managing tail-end spend can be done with less effort and with more time saved.
Therefore, organizations now are looking to improve the management of tail-end spend.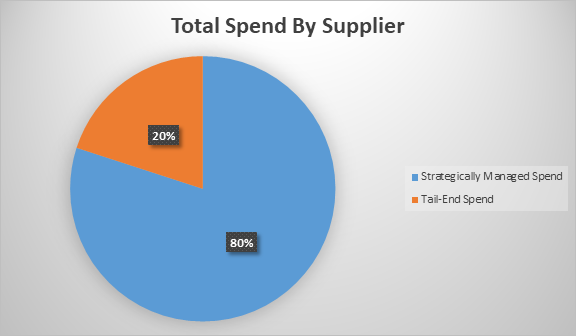 Data from: sievo.com The hidden tail-end spend in comparison to the total managed spending
The Risk of Ruining Reputation in Unmanaged Tail-End Activity
We need to understand unmanaged spend, it refers to organizations doing business with unknown suppliers. These unknown suppliers can be a violator of CSR principles or can be related to other misdeeds.
It is difficult for a company to establish and maintain a stellar reputation. You have to keep check of your CSR activities and also have to refrain from any violation. The usual 80% of strategic spend, according to Omni Procurement, is always kept in check by experienced people in a company's procurement department. The procurement department manages these key suppliers thus it is risk-free.
The company is well known for the details of its strategic suppliers, its values and other important conditions. However, 20% of tail-end spend is unsafe and complex. If this is unmanaged, your company may be vulnerable as there is no team assigned to look into the details of this additional expense.
Moreover, the suppliers of this 20% additional spend remain unknown, putting the company into unwarranted risks. For instance, if one of your unknown suppliers are discovered causing chemical pollution or practicing child labor. This will severely damage the good name of your organization because you are associated with them.
These negative reviews may not be repairable and could possibly lead to a disastrous situation. Secondly, unmanaged tail-end spend enables people from across your business to buy from anyone they want. If this is unchecked, there is a high chance that employees of your company will purchase products from a personal connection, or from a supplier they are related to. This may result in overpaying and increased cost which will affect the bottom line of your company.
However, as I've mentioned before, in the worst-case scenario, the buyers and suppliers may be violating fair practice rules which will put your company at the risk of being sued. In a nutshell, if you are unaware of the unmanaged tail-end spend you are likely to be in deep waters. The consequences may affect the reputation of your organization permanently.

The Effective Methods of Managing Tail-End Spend
According to Omni Procurement, your company may start tail-end spend assessment with a six-month trial where you will need to:
-try to explain the tail-end spend
-calculate the openings
-make a business case which will reduce your costs
-create effective models and investments to outsource the tail-end spend management
The method may consist of these elements: analyzing data, choosing a source, signing contracts, procure required products and pay the suppliers.
Efficient management of tail spend has some specific requirement. Your organization should address these requirements in order to gain more effectiveness in tail spend.
Third-Party Procurement:
You can hire a third-party procurement company to keep tabs on the additional expenses of your company. The assigned team will be responsible for: the purchases, cost, sourcing, etc. within the allowed expense threshold.
Planned Purchase:
Procurement experts should handle the procurement process for efficient purchases, evaluation, suggestion, and cooperation.
Online Procurement:
A third party procurement company can enable your company to access an online procurement marketplace. This helps your customers to source initiatives as required.
Local Procurement Information:
This is an important aspect of tail-end spend management as locals know best, the means for increased effectiveness and understanding. A significant amount of local resources is now included in tail-end spend management by the procurement outsourcers.
Analyzing the Cost Data:
By properly analyzing the data of the cost and transaction, it is possible to gain better visibility of tail-end spend. Accurate analysis of data will help your company to reduce the unnecessary costs and design a spend-structure which would facilitate effective spend management.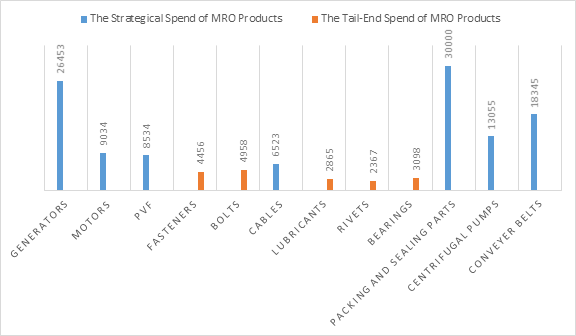 The example of Strategic and Tail-End Spend in terms of MRO products
The Most Efficient Tail-End Management Practices
In a case study performed by Omni Procurement, A major global telecommunications supplier hired a professional third-party procurement company to keep their tail-end spend in check. As a result, the organization was able to save up to 13% in one year which not insignificant at all.
Lately, the importance of proper tail-end spends management is being recognized and also being practiced. The owners of big businesses are realizing the fact that a healthy amount can be saved by the proper tail-end spend management. It does not mean that tail-end spend should be given more priority than strategic spend because as mentioned earlier, 80% of your expense is strategic spend. Contrarily, only 20% is tail-end spend.
However, you must not overlook the 20% by deeming it inconsequential. As unmanaged tail-end spend can, and definitely will, increase the total cost of your company. Moreover, you will be susceptible to a negative reputation.
Finally, to succeed in the long run, your organization must manage its tail-end spend by using the proper methods. Proper tail-end spends management would strengthen the overall economy and revenue of the company.